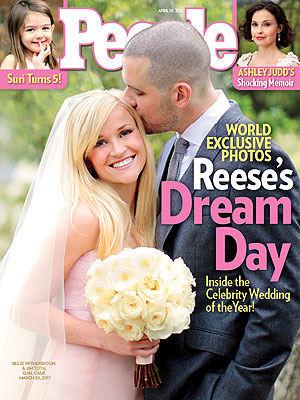 Reese Witherspoon and new hubby, Jim Toth, who recently wed on March 26, is on the cover of the latest issue of People magazine. People magazine has exclusive rights to the couples wedding pictures. The big shock of the day had to be the beautiful, pink wedding dress Witherspoon wore when she walked down the aisle.
I love that Reese took such a big risk at her wedding and forgoing the traditional white dress. Especially since this is her second marriage and she is already a mother of two, it makes more sense to do something different, yet traditional at the same time.
So what do you think? Do you like the pink wedding dress or do you wish she would have stuck with tradition?
No matter how you feel about a pink dress, you have to admit she looks gorgeous and happy! Good luck to the new couple!
For more information on Reese Witherspoon and Weddings:
Reese Witherspoon, The Avon Lady
Bridal Makeup
Makeup Makeovers: Weddings
References:
Garcia, Jennifer.
Reese Witherspoon's Wedding Photos
. April 5, 2011. April 5, 2011.